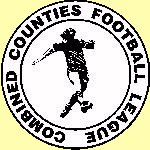 The Cherry Red Records Combined Counties League
League Changes for 2021/2022
---
   



FAREWELL

Last week we found out exactly what the restructure would mean for both the League and its clubs.

From the Premier Division only one club is leaving us and that is Sutton Common Rovers and we are delighted to congratulate them upon their promotion to 
Step 4, where they will be playing in the Isthmian League, South Central Division.  They will now be ground sharing with a Football League club in Sutton United, 
who are also to be congratulated upon a magnificent achievement in winning the National League.

It is a different story in Division One though, where no fewer than 8 clubs will be leaving us, some against their will.  The likely outcome has been known for 
some time of course and contrary to what one club suggested, the League had no inkling beforehand as to the FA's final decision and indeed, made it clear that 
we had no wish to lose any of our clubs, as a result of the decision to basically move our Step 6 division westwards to the point that there remains only one 
Surrey based club, Bagshot, in it.

Subject to any successful appeals, we shall be saying goodbye, for the time being at least, to Ash United, Chessington & Hook United, Dorking Wanderers 
Reserves, Epsom & Ewell, Fleet Spurs, Godalming Town, Tooting Bec and Westside, all departing for either the Southern Combination, the Southern Counties East 
League or the Wessex League.  We wish all our departing clubs every success and hope that life is not quite as bad as one or two of you envisage.

Congratulations go to Jersey Bulls, Farnham Town and Walton & Hersham, who have all been promoted to Step 5.  It is particularly satisfying for Jersey who had 
already won promotion in season 19-20 before it was denied to them.  Farnham Town are also back at Step 5 and they have been knocking at the door for a 
while.  Their ground has seen some impressive refurbishment in recent times and certainly deserves Step 5 football.  Finally, it was sad to see such a famous club 
as Walton & Hersham dropping down to Step 6 and it is good to see them starting to make the journey back to past levels.

We have, of course, been awarded a second Step 5 division and that means that we will have no less than 13 clubs coming to us on a lateral transfer plus a further 
10 elevated from Step 6 who were in other leagues this last season.  They are also to be congratulated upon their promotion to Step 5.  We will be 
communicating with all our new clubs over the coming days and they will all receive a welcome letter from the Chairman very shortly.  At least 7 of them have 
previously been in the CCL, some many seasons ago.

The official start date for next season is Saturday 7 August but as that is also the date for the Extra-Preliminary Round of the FA Cup, we will invite any club 
involved in the FA Cup and wishing to play a league match beforehand on Saturday 31 July and/or in the following midweek, to do so.  Obviously if there are an 
odd number clubs in any of the divisions on any one of the dates, one club would not get their wish.  The bottom line is that nobody will be required to play a 
competitive match before Sat 7 August.


---